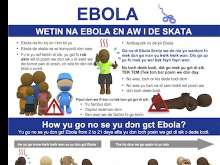 Ebola outbreak: TWB providing translation in local languages (Archive)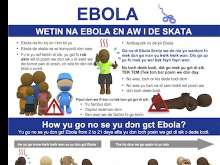 The spreading of simple messages, in languages that local populations relate to, makes an enormous difference in managing the devastating Ebola outbreak. 
Over the past months Translators without Borders has been working tirelessly to support efforts to reduce the information gap by providing translation of Ebola messages into West African languages for the most affected populations in Sierra Leone, Guinea and Liberia. As such, we have reached out to various organisations and translated their Ebola materials to ensure that affected populations receive critical information in their own languages.
The translations are done through our Words of Relief project, funded by the Humanitarian Innovation Fund (HIF). This project is currently being piloted in Kenya with Swahili and Somali. In November 2014, we received extra funding from HIF and the Indigo Trust to extend the project to West Africa for the Ebola crisis.
We have translated various social mobilisation messages, SMS messages, posters and public services announcements in over six West African languages such as Krio, Themne, Mende, Fula, Malinke and Pidgin English. We are also working on other key languages such as Bambara in Mali.
Many aid agencies like Médecins sans Frontières in Sierra Leone are using our translated content for their social mobilisation activities. Have a look at some of the material we have translated so far:
CDAC Message library key messages on Ebola
International SOS posters (Krio, Themne, Mende, Fular, Nko, Swahili, Kinyarwanda, Amharic, Yoruba, Igbo, etc)
WHO/UNICEF Social mobilisation key messages (Themne, Mende, Krio, Fular, Swahili)
IntraHealth Ebola SMS messages for health workers (Krio, Themne, Mende)
CDC Ebola posters signs and symptoms (Malinke, Krio)
Message for children & caregivers on Ebola (Theme, Mende, Krio, French) 
The content is provided by International SOS, WHO/UNICEF, IntraHealth, the Center for Disease Control (CDC), CDAC Message Library and the Global Protection Cluster among others.
The material is published and available for download on multiple websites such as Ebola Communications Network,  Humanitarian Response Info, ReliefWeb, BOND, the CDAC-Network DropBox and in the CDAC Message Library. 
We have also contributed to the translation of the video "Ebola: A Poem for The Living", which currently exists in over 15 languages. Up to now, the video has had over 45,000 views, was uploaded over 500,000 times and had more than 600,000 embeds. It's been used by many NGOs and churches. It is broadcasted on TV in Liberia and it is being passed via Bluetooth from mobile phone to mobile phone in Guinea.
The Words of Relief Ebola Extension will continue until January 31, 2015. Check out our most recent blog (here) for all the updates about the WoR project.
Related posts