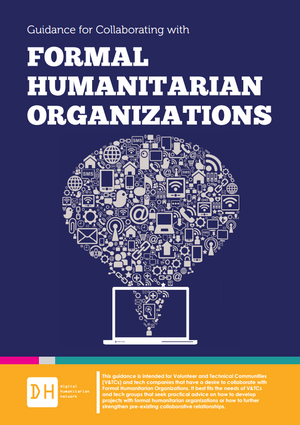 Guidance for Collaborating with Formal Humanitarian Organizations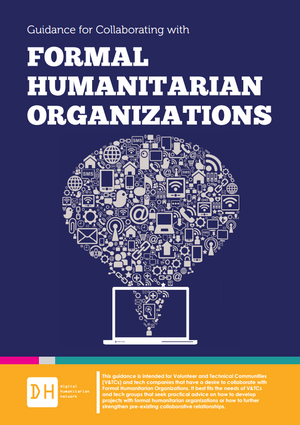 This guidance is intended for Volunteer and Technical Communities (V&TCs) and tech groups that have a desire to collaborate with Formal Humanitarian Organizations. We hope that it best fits the needs of V&TCs and tech groups that currently seek practical advice on how to develop projects with formal humanitarian organizations or how to further strengthen pre-existing collaborative relationships. We hope that this Guidance helps V&TCs better understand the modus operandi of humanitarian organizations so that they may better formulate requests for partnerships and maximize the benefits of collaborative relationships.
View PDF File
**Some of the interviews that were conducted for the research phase of this Guidance have been made available to the public.
To read the interviews: View PDF
___
Ces lignes directrices s'adressent aux Communautés volontaires et techniques (CV&T) et les groupes technologiques souhaitant collaborer avec les Organisations humanitaires formelles. Nous espérons que ce document répondra aux besoins des CV&T et des groupes technologiques avides de conseils pratiques sur la façon de développer des projets avec des organisations humanitaires formelles ou comment encore renforcer les relations de collaboration préexistantes. Nous espérons que ces lignes directrices aideront les CV&T à mieux comprendre le mode de fonctionnement des organisations humanitaires afin de pouvoir mieux formuler des demandes de partenariat et maximiser les avantages conférés par les relations de collaboration.
View PDF File
**Certaines des interviews menées au cours de la phase de recherche de ces lignes directrices ont été rendues publiques.
Pour consulter les interviews, merci de vous rendre sur : Ici
Related posts