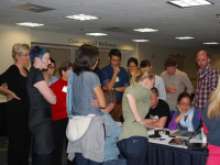 DHNetwork Summit at ICCM (Archive)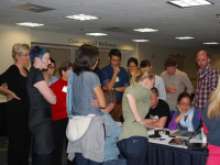 The Digital Humanitarian Network Summit 2013 at 88mph Garage in Nairobi, Kenya. We'll be examining current humanitarian challenges in relation to technology, digital response, and crisis management. Participants will brainstorm and plan ways in which we can create solutions to those challenges using adaptable, agile methods and tools.
We hope you'll join us as we seek to create adaptable digital avenues for humanitarian response. Follow the @digihums on Twitter and get info on related humanitarian work at the hashtag #Digihums. Check out their website for more information on how to become a digital humanitarian.
Summit Agenda
Day 1, November 23rd:
Breakfast.
Presentation: Overview of Digital Humanitarian Network.
Introductions: Attendee backgrounds and challenge themes.
Breakout Session: Challenge-solution brainstorming.
Lunch.
Whole Group Discussion: Challenge solution discussion and trend analysis.
Thematic workshops: 2-4 tracks.
Day 2, November 24th:
Breakfast.
Breakout Sessions: Project proposals.
Work Session: Project development.
Lunch.
Work Session (con'td).
Project Presentations: Livestreamed.
Breakout Sessions: Project collaboration and planning.
Whole Group Discussion: Project voting and adoption.
Mingle and Talk.
Related posts